21 November 2018
Here is a list of fund managers and financial regulators:
Ray Dalio, founder of Bridgewater Associates, which manages USD$160 billion
Paul Tudor Jones, successful hedge fund manager since 1980
The International Monetary Fund, which recently pointed out global debt has now reached 225% of GDP, beating the 2009 record of 213%
Jean-Claude Trichet, head of the European Central Bank from 2003 to 2011
The Bank of International Settlements, which did warn the US Federal Reserve about the impending GFC
Janet Yellen, former Chair of the US Federal Reserve.
What do they have in common? All of them have recently warned that a debt crisis will occur in the next couple of years. In particular, Ray Dalio has just published a book, Principles for Navigating Big Debt Crises, which is available in PDF form at his website www.principles.com for free! Yes, free – the only catch is that it is 471 pages long.
For the last twelve months Arminius has been pointing out that the next financial crisis is fast approaching, and that it will be very different from the GFC. The GFC was a banking crisis triggered by massive defaults on securitised housing loans, which quickly ate up the inadequate capital bases of the major US and European banks, putting many in danger of insolvency.
This time around, the banks are much better capitalised, and their bad debt write-downs will not be coming from housing loans, but from the bonds and other borrowings of the US corporate sector. Most US companies went into the GFC with relatively low gearing, because the pain of the 2002 recession was still fresh in the minds of boards and executives. In 2018, companies have had eight years when they could borrow at record low interest rates, because the policy of the US Federal Reserve and other central banks was to keep interest rates near zero in order to stimulate their economies.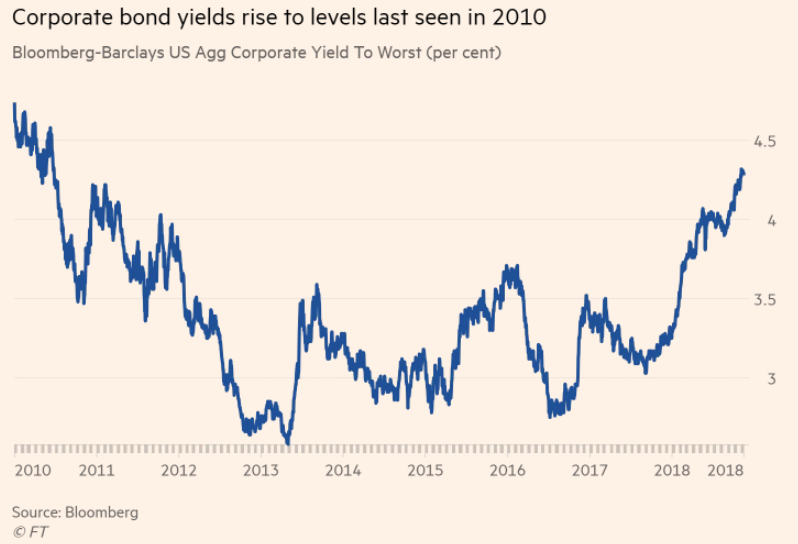 The chart above shows how average corporate bond yields have only just returned to their 2010 levels. The chart below shows how rapidly US corporate leverage has risen as many companies hastened to take advantage of the ultra-low interest rates.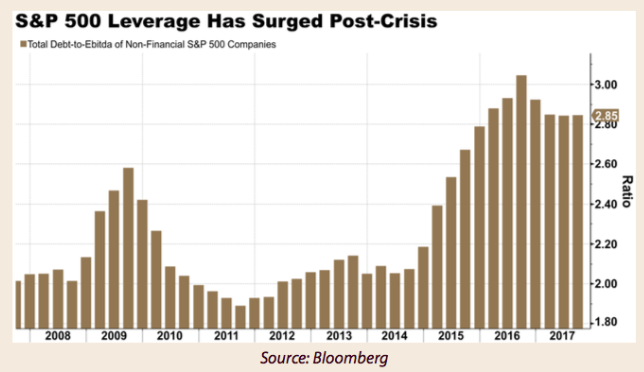 Corporate bond yields have been rising since mid-2016, partly because the US Federal Reserve has been raising official cash rates, and partly because US government bond yields have been rising under the pressure of the US government's rising deficit. Obviously, higher cash rates and higher bond yields raise the cost of debt, and eventually some companies will default.
The Bank of International Settlements expounds upon this with their reference in the BIS Quarterly Review on 23 September 2018 to the fact that leveraged finance, comprising high-yield bond and leveraged loan-based finance, has doubled in size since the Great Financial Crisis (GFC). They note that the default rate of US institutional leveraged loans increased from 2% in mid-2017 to 2.5% by June 2018. This may not appear at first glance to be a material move, but previous bond market crashes show that small upward moves in default rates can trigger waterfall effects.
Again, as the Fed normalises monetary policy, leveraged loans' floating rates mean that their propensity to trigger defaults will multiply. This in turn has implications upon market liquidity risks. If BBB rated instruments are downgraded to a BB or lower rating (ie. "speculative grade") then those holders will simply dump that debt. The illiquidity of this section of the bond market has often drawn comparisons to the adage of fans at Yankee Stadium all attempting to exit by just one single door all at once.
What will a US debt crisis mean for the Australian investor? The market fears aroused by US corporate crashes will raise the borrowing costs of our banks, because all of the Big Four make use of the US bond markets for part of their wholesale funding. In addition, the US debt crisis will probably coincide with the painful deflation of Australia's long-running housing boom. Then there is the unrelated risk of a sharp slowdown in the Chinese economy – China, of course, buys one-third of Australia's exports. In short, Australia is in danger of winning a trifecta of disasters.
The average Australian investor will not or cannot invest in hedge funds, put options or shorting. So for the majority of average Australian investors there are three important choices which will stand out:
In order to protect themselves, individual investors in Australia need to hold enough cash and high-quality fixed interest to avoid being forced to sell any equity or property assets for three years.
Provided that you genuinely have a five-year investment horizon, there is no need to sell the major Australian banks. They are not at risk of collapse, because they have been forced to strengthen their capital bases, but their profits could be harmed by a rash of bad housing loans, which might lead to some dividend cuts.
All equity holdings should be reviewed with a focus on quality and stability. For example, companies with high gearing are clearly at risk in the coming debt crisis, and companies with fickle customers or low margins usually do very badly in bear markets.
489 , 1 views today