25 October 2018
2019 is the Year of the Pig. In the Chinese zodiac, the pig is regarded as peaceful and generous, but the Chinese government already has a serious problem with pigs. In addition to fighting a trade war and trying to deflate a credit bubble, it now has to deal with an outbreak of African Swine Fever.
Cases of African Swine Fever ('ASF') were reported in China's north-east in early August, and authorities responded by disinfecting farms, imposing quarantines, culling over 200,000 infected pigs, and restricting long-distance transport of all pigs. Their measures have been unsuccessful. By early October, 40 outbreaks had been reported across ten provinces, as far west as Inner Mongolia and Shanxi, and as far south as Anhui and Zhejiang. This week, two new cases were reported in the even more distant south-western province of Yunnan, so it is likely that ASF is rampant among China's 500-million-plus pig population.
Unlike classical swine fever ('Hog Cholera'), which is caused by a different virus, there is no approved vaccine against ASF. It was first discovered in Kenya in 1921 and is today endemic in most of sub-Saharan Africa. In 1971, Cuba destroyed 400,000 pigs and in 2018 Romania has done likewise with 120,000 pigs so far. ASF can survive for 140 days in some pork products, and up to 18 months in blood. The disease has never been reported in the US, Canada, Mexico, Australia or New Zealand.
Map created for "Terrestial Disease; African Swine Fever; Domestic & Wild; Monthly; October 2018".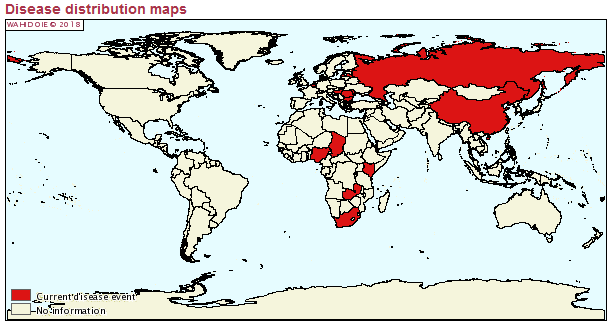 For most countries, 40 outbreaks of a fever affecting pigs would be a mild disruption, but pork is very important in the Chinese diet. China produces and consumes over 40 million tonnes of pork per year, equivalent to about half of the world's pork. Pork accounts for more than half of China's meat consumption, exceeding chicken, duck, mutton, and beef put together, and it is roughly the same as China's consumption of fish and seafood. The average Chinese eats 39 kg of pork per year, out of a total of 60 kg of all meats. (People in southern China tend to eat more pork than those in the north.) For comparison, the average Australian eats 100 kg of meat per year, and about two-thirds of it is beef. Not surprisingly, pork accounts for nearly 3% of China's Consumer Price Index, and swings in pork prices affect household budgets and national inflation rates.
The timing is also bad. Pig production should be nearing its seasonal peak in preparation for the Chinese New Year Festival, which will be celebrated in early February. Obviously, pig farmers will not have much to celebrate, and the general public may well decide that 2019 would be a good year to go to McDonalds instead. Whatever the outcome, the Chinese government is stuck with yet another economic problem.
Sources:
Center for Food Security and Public Health, Iowa State University.
National Bureau of Statistics of China.
World Organisation for Animal Health, Paris, France.
536 , 1 views today