5 May 2020
Warren Buffett provided a couple of surprises at Saturday's annual meeting of Berkshire Hathaway.
First, he admitted that he had made a mistake in owning airline shares, because the industry was unlikely to bounce back quickly, so he sold out of all four big US airlines in April.
As the chart below of Delta Airlines, United Airlines, American Airlines & Southwest Airlines shows, any performance gains in the last 2 years came back to earth last month. The graph is indexed to the four airlines' share prices based to $100 in May 2018. The airlines' falls have been material.
Delta Airlines, United Airlines, American Airlines & Southwest Airlines: 2018-2020
BASE 100 = 5th May 2018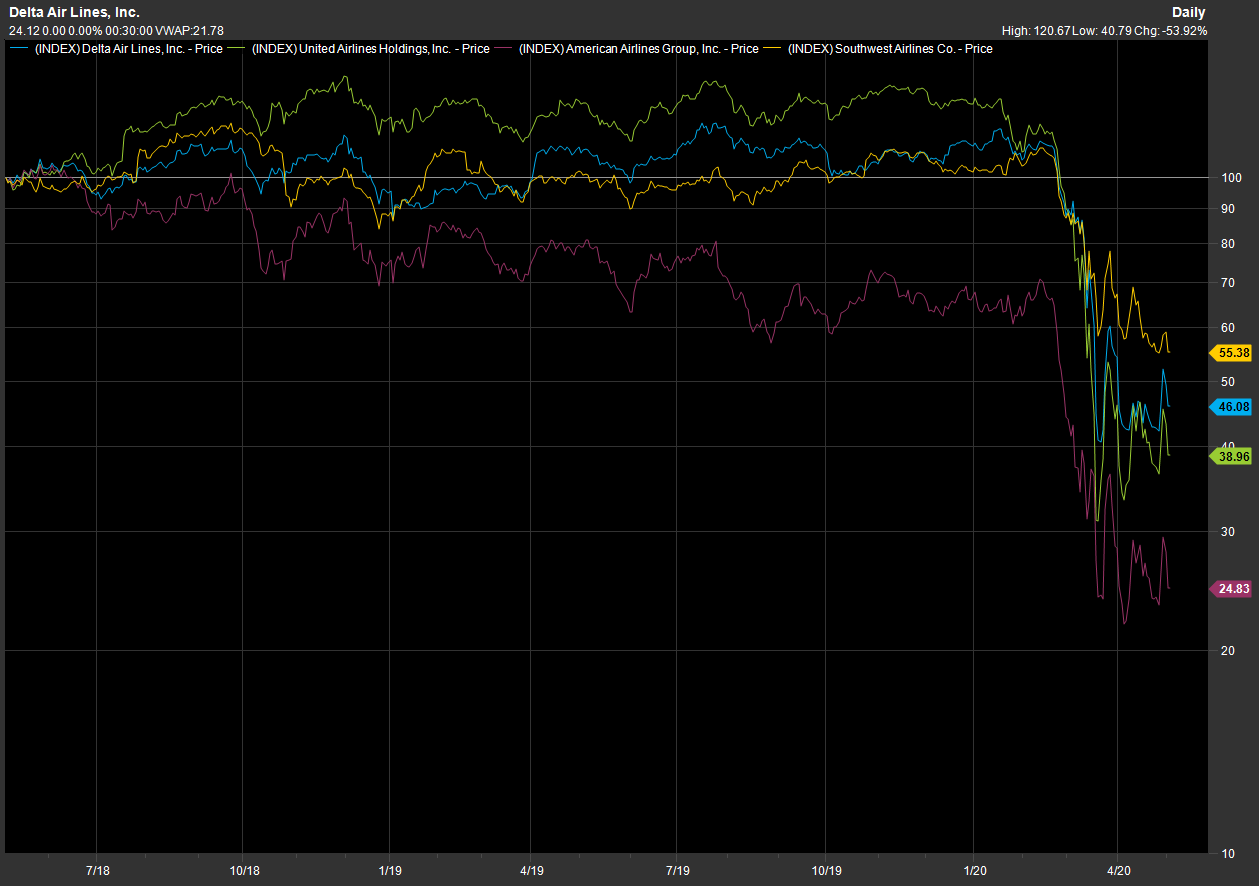 Source: FactSet
Second, he disclosed that he had decided not to make large loans to companies – as he did during the GFC – saying "we don't see anything that attractive to do". He noted that the Fed had done the right thing in supporting credit markets speedily and massively.
The biggest surprise was that Buffett was very cautious about the immediate future. Although he was positive about the long term – "Never bet against America" – he made it clear that he was thinking in terms of decades. About the immediate future he said "You can bet on America, but you kind of have to be careful about how you bet." He added the qualification "markets can do anything."
Readers may remember that in November 2008 Buffett publicly encouraged investors [i] to start buying US shares [ii]. He was a bit premature, because the US share market didn't bottom until March 2009, but investors who followed his advice still did very well (as usual). But Buffett issued his advice twelve months into the GFC bear market, by which time the US share market was 40% below its peak. The current bear market is only eleven weeks old.
In the first quarter of 2020 Berkshire lost USD $49.7bn, compared to a profit of USD $21.7bn the year before. But the accounting loss was entirely due to a USD $55.6bn fall in the value of the group's investments. Buffett has always focused on the figure of operating earnings line, which rose by 6% to USD $5.9bn in the quarter, compared to USD $5.6bn in the March 2019 quarter.
Even though the share price is down 19% year to date, we expect that Berkshire will continue its half-century record of outperforming the US market. In recent years Buffett has said that most US stocks were too expensive to buy – now he may find ways of spending his USD $137bn cash pile.
Just not right away.
[i] https://ftalphaville.ft.com/2008/10/17/17178/buffett-talks-his-book/ "Buffett talks his book"
[ii] https://www.ft.com/content/716997ca-9cb5-11dd-a42e-000077b07658 "Buffett throws his lot in with stocks"
409 , 2 views today