10 September 2021
For the last two months Arminius has been warning investors that world equity markets are at risk of a correction of up to 15%. We believe that share prices have baked in too much optimism about the global economic recovery, which means that any serious setback could trigger a sharp fall.
Share markets have had a very good run since the pandemic shock of February-March 2020, and many investors are inclined to confuse a rising market with their own genius as investors. As a consequence, they keep putting more and more money into the market, especially into the more speculative stocks which offer greater upside. Investors are also tempted to use more leverage, e.g. buying on margin, or debt funding, or going long via call options.
Market valuations are not yet at nosebleed altitudes, so we are not worried about an imminent bear market. But many stocks are so expensive that they are vulnerable to any bad news. In the resources sector, for example, the long-term outlook is excellent, thanks to the need to adjust to climate change and de-carbonize the global economy. But in most metals, speculative positions have run well ahead of actual demand, so some price retracement is inevitable.
Another key factor is seasonality. The Bloomberg chart above shows average returns for each calendar month since 2000. Most months generate positive returns, but September is the biggest loser. We are now in September: a negative return is not guaranteed, but it is likely.
For investors with a long-term investment horizon and no speculative positions, the coming correction is not a major concern. Global share markets are still enjoying the unprecedented fiscal support which governments pumped into their economies in the last year and a half, and official interest rates are still months away from their first baby steps back towards normality.
In the longer term, government and private spending on infrastructure and renewables will continue to fuel the major economies. Europe's spending programs are already set in stone. China's spending programs are even better than set in stone: they are written into the Fourteenth Five-Year Plan, founded on Xi Jinping's commitment to net zero emissions by 2060. Calendar 2021 will see slowdowns in some sectors of the Chinese economy – particularly steel production and residential construction – but these slowdowns were mandated by the authorities in order to prevent over-heating. (Remember that, uniquely among major economies, China did not give huge future-tax-payer funded handouts to its citizens in 2020.)
The US is the riskiest of the major economies. A huge infrastructure spend has already been legislated, but the Biden Administration still has to get its USD$3.5 Trillion 2020-2021 Federal Budget through the Senate. The death or defection of a single Democrat Senator could prevent the passage of the Budget as planned, leading to a much smaller Budget or even to another government shutdown. Needless to say, the US share market would be very disappointed if anything like this happened.
There is another reason why we remain positive about the medium-term outlook for global equities. The recovery from the pandemic set in motion a radical change in the attitudes of US retail investors. They increased their share buying by 50% or more. The chart below shows each calendar year's flows into equity ETFs. The flows in 2021 to date are double the levels of the previous record year (2017) and even further ahead of all other years.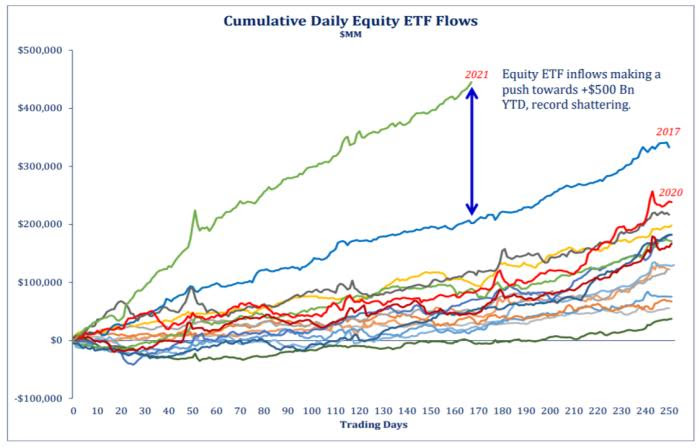 Source: Strategas via FT Unhedged
This surge in retail money going into US shares has several causes. The obvious one is the income support payments into individuals' bank accounts. Another is the shutdown of major US sports and hence of sports betting. The most important may be the democratization and gamification of investing via new brokers such as Robinhood, which has drawn in unprecedented numbers of younger investors. Finally, there is the simple fact that success breeds success: investors who did well in 2020 believe that they will do even better in 2021.
The net effect of the surge in share buying will be to support US share prices for many months yet. People who think they are smarter than the market want to "buy the dips", and they will keep on buying the dips until they lose a lot of money – as in the GFC, the dotcom crash in April 2000, Black Monday in October 1987, and all the way back to 1929 and beyond.
-ENDS-
338 , 1 views today