8th March 2019
China's equivalent of Parliament meets in Beijing every year for a few days in March. This august body, officially called the National People's Congress, always passes every item of legislation put in front of it by the Communist Party leadership. This piece of political theatre is very carefully stage-managed, right down to the enthusiastic applause for the 2-hour speeches by each of the leaders. In fact, the whole of central Beijing goes into security lockdown for the duration of the Congress.
Despite the highly artificial nature of this exercise in rubber stamping, it is worth paying attention to what is said at the Congress, because this is the annual event where the Chinese leadership publicly presents what it thinks is really important. For example, Premier Li Keqiang delivered the Work Report on what the government did last year and what it plans to do this year. Because the Chinese Communist Party has never admitted that it has ever been wrong about anything, what is said in the Work Report is henceforth set in stone as the official Party line.
Therefore, the Work Report is the authoritative document where the target GDP growth numbers are set, where priorities are announced, and where policy changes are foreshadowed. It is also worth reading to see what is not there – there will be no references to programs that didn't work, or to policies that have been subsequently abandoned. With these provisos in mind, we summarize the dozen most important components of the 2019 Work Report.
Real GDP growth for 2019 will be between 6.0% and 6.5% (down from the 2018 target of 6.5% and actual of 6.6%).
The fiscal deficit will rise from 2.6% of GDP in 2018 to 2.8% in 2019.
Tax cuts will rise to RMB 2.0 trillion (about AUD $400 billion) in 2019, compared to RMB 1.1 trillion in 2018, and will favour small and private enterprises.
Monetary policy will remain prudent and stable – credit will grow in line with nominal GDP growth.
China will not resort to "a flood of strong stimulus policies", but will maintain steady growth while guarding against financial risks.
Banks will be required to increase their lending to small and private enterprises by 30%. The authorities have been urging banks to do this, and now they are ordering the banks to do it.
A new policy of "financial supply-side reform" will be put in place to tidy up the financial sector, e.g. creating more specialized institutions, allowing in more foreign competition, and reducing inefficient lending practices.
Consumer price inflation will be unchanged at about 3% pa.
RMB 2.15 trillion worth of special local government infrastructure bonds will be issued in 2019, up from RMB 1.35 trillion last year, i.e. a delayed boost to infrastructure spending.
Defence spending will rise by 7.5% to RMB 1.19 trillion, compared to a rise of 8.1% in 2018. (China's defence budget is second only to the US.)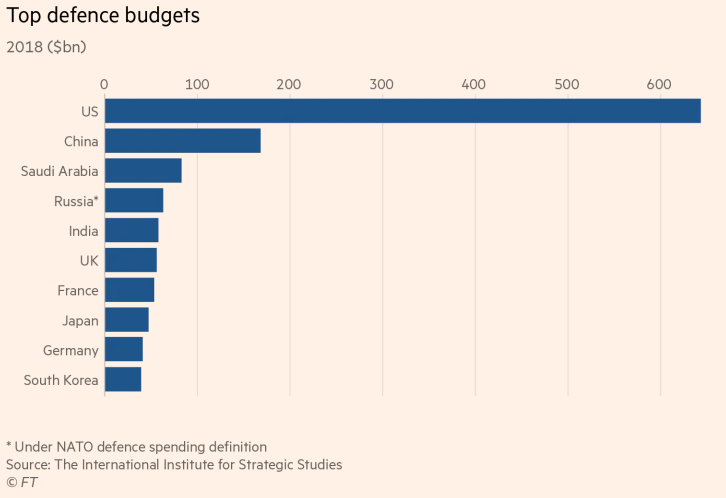 Energy consumption per unit of GDP is planned to fall by 3%, and China will intensify efforts to control pollution and promote green development (this is Xi Jinping's signature policy of China as an "ecological civilization").
The anti-poverty campaign (another Xi signature policy) will reduce the number of rural poor by 10 million in 2019
The anti-corruption campaign is effective and will continue.
What wasn't in the Work Report:
No mention of the "Made in China 2025" policy of promoting Chinese leadership in high-tech industries – this policy really irritated Trump's trade negotiating team.
No sign of the big stimulus that some foreigners had predicted for 2019. The Work Report went out of its way to stress prudence and stability.
Nothing of substance about real estate, which suggests no stimulus here this year. The government has three incompatible objectives in the housing market – to keep big-city prices affordable, to soak up excess inventory in smaller cities, and to keep land prices high (because land sales fund local government spending).
More sectors will be opened to global competition, but no detail on which ones.
No target for money supply (M2) – a series of misses has made the authorities wary of forecasting a specific number.
Not a word about the US-China trade negotiations, just some vague remarks about facing "a graver and more complicated environment".
The overall message is "Everything's under control, but the weather is getting rougher." This is why the Chinese leadership is willing to make large, public concessions to the US: a truce in the trade war won't solve everything, but it would remove one of their major problems. Besides, once The Donald is out of the way, China can go back to doing things its way. China is well aware of the example of Japan and Germany, who bowed humbly to US threats in the 1980s, and thirty years on both countries are still running permanent trade surpluses with the US.
We explained in a recent article on the Arminius website, "Preparing for the China crisis", why we think there is a good chance of a financial crisis in China within two years. This is still a probability rather than a certainty, but the 2019 National People's Congress said nothing to make us more optimistic. We are living in interesting times!
513 , 1 views today