4 February 2021
In November 2008 a panicked Chinese government launched a stimulus package equivalent to 12% of then GDP. The package propelled China out of the GFC, but it created more problems than it solved, e.g.:
A tenfold increase in corruption.
Useless or non-economic projects: "bridges to nowhere".
A surge in banks' bad loans.
A sharp increase in the ratio of debt to GDP.
Unsafe buildings, and highways that collapsed.
The current Chinese government is not about to repeat this mistake. Its response to the GFC has been modest, focusing on maintaining public sector investment and propping up the banking sector. Households have been left to fend for themselves, with no support payments like Jobkeeper or Jobsaver. Many small businesses have closed permanently, and many low-skilled workers and new graduates have been unable to find jobs. Households' need to draw down their savings means that, even for those who still have incomes, spending remains subdued and consumer sentiment remains cautious.
The IMF forecasts GDP growth of 1.9% in 2020 and 7.9% in 2021. Although this level of growth is better than most of the world, the Chinese economy is still operating well below potential, with more downside risk than upside:
The central government may cut back spending too soon, before private sector capex has strengthened enough.
Many small rural and regional banks still have weak balance sheets and rising bad debts (especially related to local governments), so that further runs and collapses are likely.
Corporate bond defaults spiked in 2020, and 2021 will see even more defaults, particularly in the property sector.
Decreasing credit quality may cause solvent banks to tighten loan criteria, reducing the availability of finance to the private sector.
China's strong export performance was strong in 2020, but in order to continue it relies on sustained economic recovery in the rest of the world.
The US trade war and "technological decoupling" may worsen profitability and employment in several Chinese sectors. So far, the Biden Administration seems to be continuing Trump's hard line on China.
In the immediate future, Chinese authorities are hoping that the annual Spring Festival migration will not trigger more coronavirus outbreaks.
For Australia, a slowdown in the Chinese economy would be very negative. More than a third of our exports go to China, and another quarter go to China's Asian neighbours, whose economies are also linked to China.
South Korea is the country that China imports most from, at US$203 billion, with Japan second at $180 billion and Taiwan third at $177 billion (although China may not agree that these are cross border flows). Just off the podium stands the US in fourth place at $156 billion, with Australia coming in sixth place at $105 billion – remembering that America started a trade war based on these figures (a mere $51 billion difference between US and Australian numbers).
When viewing the trade balances (below) between China and the rest of the world we understand far better the precarious position Australia is in. Although, commodities are in finite supply around the world with only a few other countries physically able to step into the breach should China make the political decision that they would no long wish to purchase Australian commodities.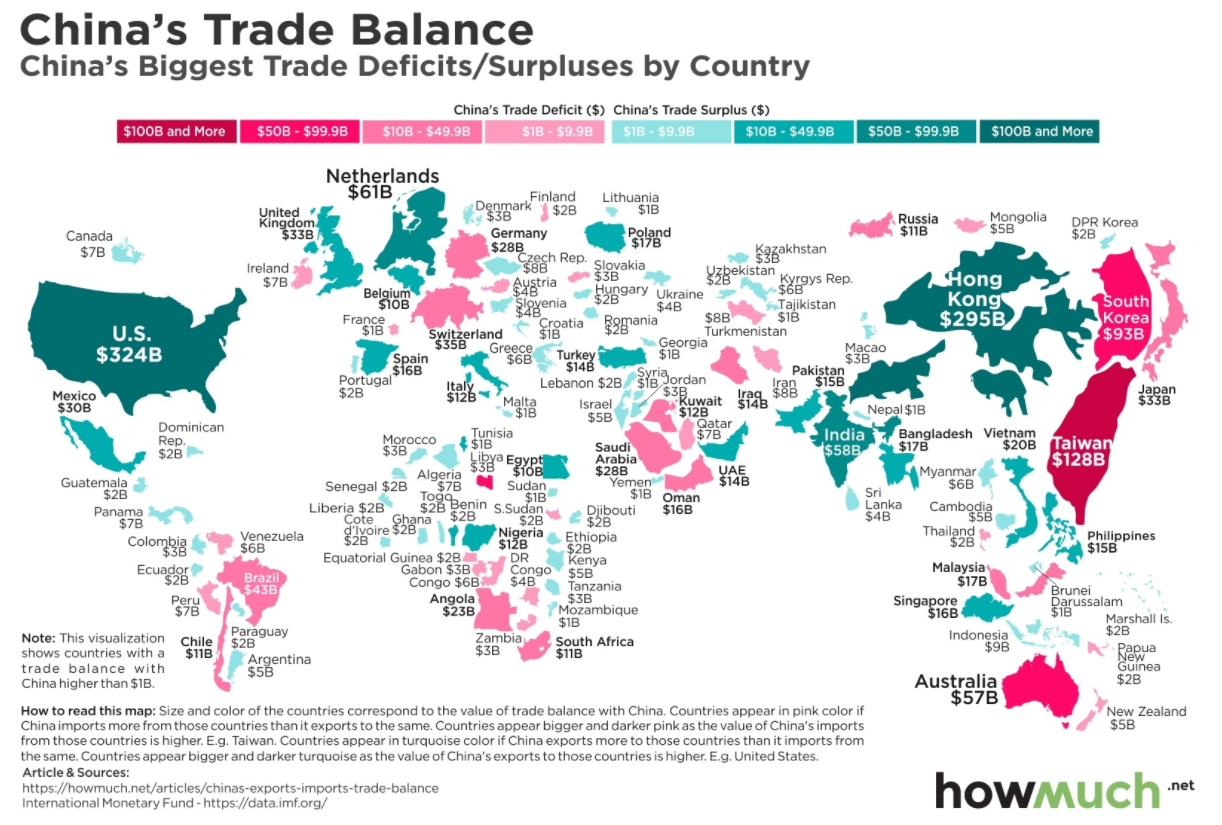 In light of current political tensions between China and Australia, and Australia's over-reliance upon China as its primary export market, policy makers and diplomats both need to ensure that their current strategies are robust enough to ensure that Australia does not also sneeze should China catch a cold.
374 , 1 views today